Are you fed up with jumping from one SEO tool to another? There is one SEO tool that will take your worries away and it is Screpy. Read Screpy review to know more about how it works, its features, and pricing.
Knowing SEO metrics of a blog or site is crucial as it identifies the critical issues that need to be taken care of. There are many SEO tools that offer different SEO strategies like Keyword research, page speed monitoring, Google rank monitoring, website analysis, and more.
But you will rarely find a tool that provides all the important website metrics. Screpy is an AI-based SEO tool with all the functionalities so you won't miss any site metrics.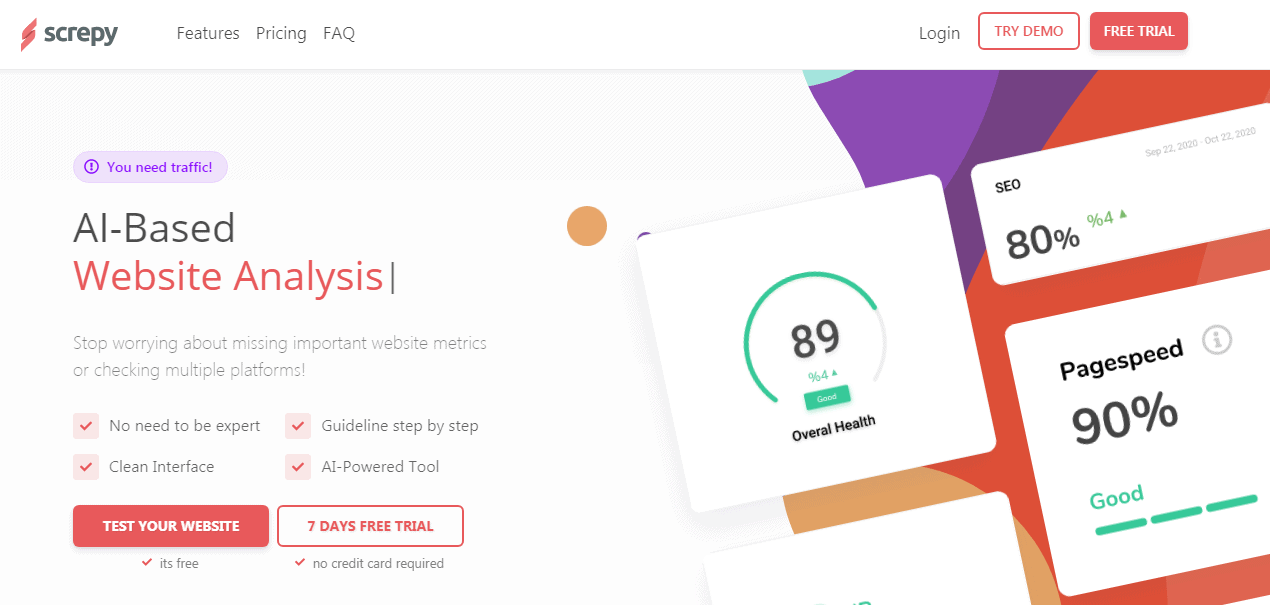 About Screpy
Screpy is an all-in-one SEO tool powered by AI to test your website for its performance issues. It doesn't need you to be an expert to operate its tool, even a novice can manage the tasks easily with its clean UI.
You can start the Screpy tour with its 7-day free trial, no credit card required. For any assistance, you can go through its step-by-step guidelines and move on to becoming a pro at SEO.
Features offered by Screpy: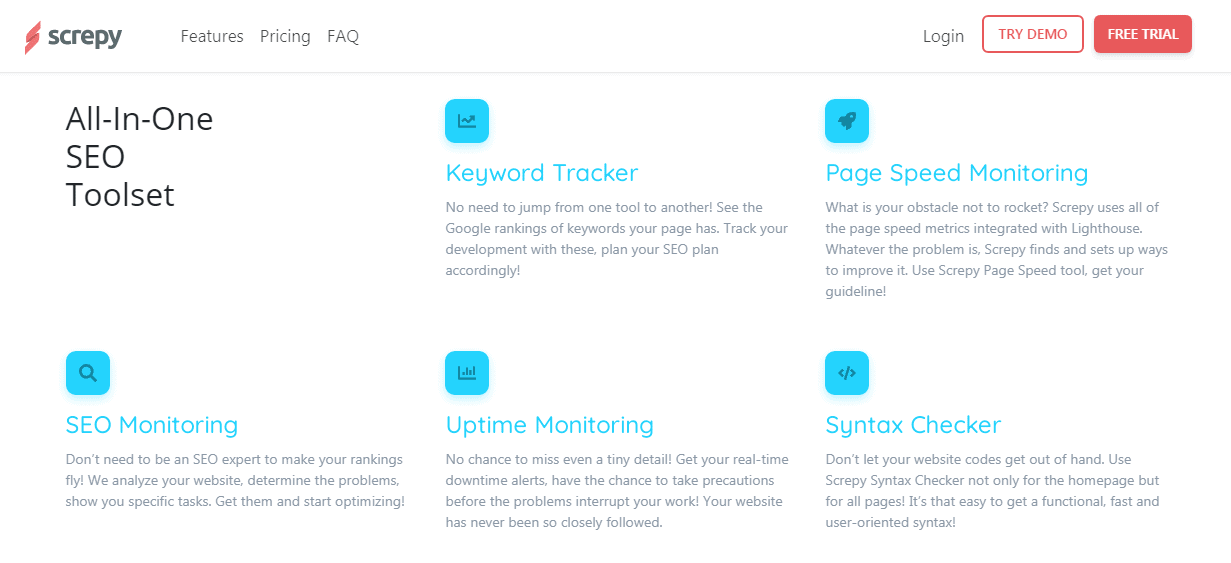 Screpy offers the following metrics in its one and only AI-based SEO tool. It includes:
Website Analysis,
Google Rank Checker,
Page Speed Monitoring,
Lighthouse monitoring,
W3C Monitoring.
If you want to increase traffic to any website, you should start using Screpy and you will see the results for yourself.
Why Choose Screpy?
All the SEO solutions under one roof is what Screpy is all about. You name it, and you will get it. Let's go deep into Screpy review to know about its tool set and how it helps in boosting the overall rank of any website.
Keyword Tracker:
Keyword is the most important factor and plays a vital role in SEO of any site. Screpy allows you to add any number of keywords in the project and track its behavior. By adding a keyword, you can check its rank in Google for different countries. This would help you plan SEO strategies for the future.
Page Speed Monitoring:
Speed is what matters the most to website users. If the page loading speed is slow, customers will never wait for the site to be loaded and will leave. This incurs a huge loss as you must have invested a lot to grab visitors attention. But failing to load the site in seconds will waste your effort. Screpy monitors page speed metrics integrated with Lighthouse and identifies the problems that cause slow page loading. Using this tool you can improve the speed of any page of your site.
SEO Monitoring:
Everything you need to boost site SEO is provided by Screpy by analyzing and determining the root cause. It automatically notifies the problem so you could optimize the site for better SEO results.
Uptime Monitoring:
Follow every inch of what's going on with your website. With real-time downtime alerts, you can determine what's causing the downtime and interrupting your workflow.
Syntax Checker:
The syntax checker gives control over the website codes and scans homepage along with all the other pages.
Screpy Review: In-Depth Features
Screpy SEO Tool 9
Name: Screpy
Description: Screpy is an all-in-one SEO tool powered by AI to test your website for its performance issues. It doesn't need you to be an expert to operate its tool, even a novice can manage the tasks easily with its clean UI.
Offer price: 9.0
Currency: USD
Operating System: Web Browser
Application Category: SEO
Author: Screpy
Summary
You can use Screpy to push yourself one step further to understand how your website is performing on search engines. Also, keep track of changes in keyword's rankings with Screpy's rank tracking feature.
Overall
4.9
Keyword Tracker (5)
Speed Monitoring (5)
SEO Monitoring (4.5)
Uptime Monitoring (5)
Syntax Checker (5)
SERP Results (5)
Pros
14 days money-back if not satisfied.
At any time, you can upgrade or downgrade your plan.
Flexible and easy to understand UI.
Cons
No API access on any plans.
Free trial only for 7 days.
Before discussing the features you can get inside the Screpy dashboard, let me show you how to get started.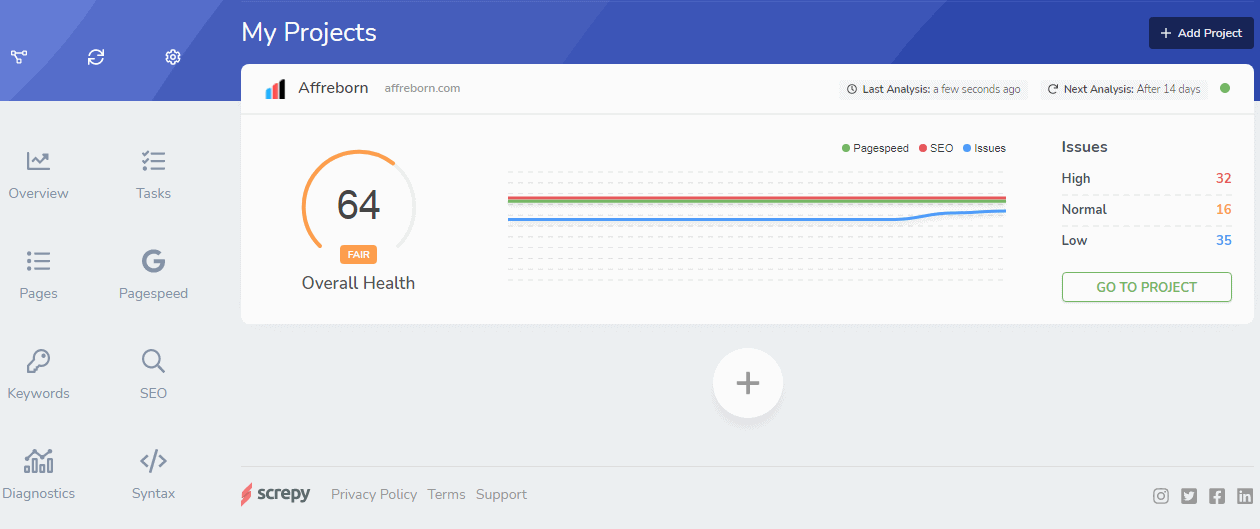 Start the free trial by entering your email address and password.
Once you are aboard, click on add a project.
Give a name, enter your site URL, select the country, and submit.
Once, you have added the links, you can go through the metrics by clicking on each of the tab on the left-hand side.
Let's discuss in detail about all the features that you could grab at Screpy.
Page Speed:
What if a customer enters your site URL but is unable to check out the contents due to slow website loading speed?
Frustrating, right!
Keeping your customers waiting too long results in high bounce rate and losing them. Imaging for yourself, when you try visiting a website that loads quite slowly, you tend to go back and visit another website.
Screpy presents a complete health report on the page speed integrated with Lighthouse. The report shows performance metrics with a simple, and easy to perform tasks to rectify the errors that cause slow page loading speed.
With AI-based personalized solutions, you will learn to analyze and optimize the website, track your progress and see the difference.
Can you see different metrics like Pagespeed, Load time, page size, and FCP?
Not only the homepage, you can add all the pages to monitor these metrics individually. The graphical representation along with artificial intelligence helps you analyze every single page and improve the performance.
You can analyze all the pages at once with access to Lighthouse data for each page. Traditional tools analyze only one page but Screpy's AI-based page speed analysis tool gives you unlimited page scanning results.
Uptime Monitoring
Imagine you are enjoying holidays laying down on the beach and suddenly the server goes down. You might be enjoying your holidays unaware of the fact that your site is down.
Screpy uptime monitoring tool is one heck of a solution that provides instant server down notification, and detailed response time graph. The metrics shown in uptime monitoring help you understand site behavior. These metrics include avg. response time, status code, period, and avg. uptime.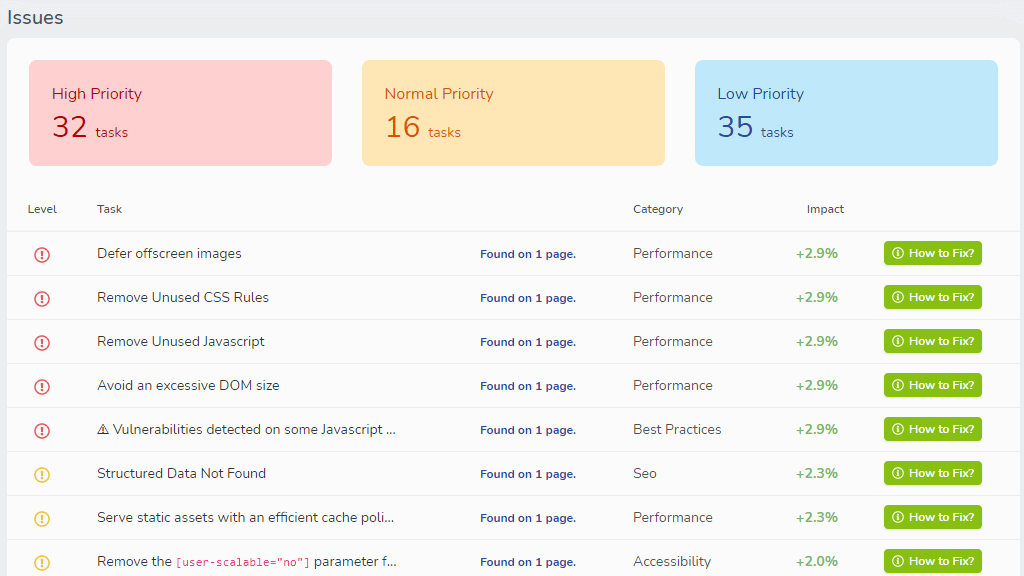 SEO Audit
With Screpy's SEO tool, you will leap one step forward and become a pro in SEO even if you have just started. You don't need to be an SEO expert, simply follow the steps and compete with your competitors.
It ain't a rocket science to understand as everything is made simple and easy to understand. The SEO tool is powered by AI that scans the entire website including the homepage and all the other pages.
Once the scan is complete, it shows detailed step-by-step tasks to be completed to resolve specific issues. It takes care of all the SEO issues in real-time considering SEO rules for on-page and off-page SEO.
You will find metrics like Title, H1, Minified JS & CSS, Description, image lazy load, Unused JS & CSS, and more.
A green tick in front of the metrics means you don't need any modifications, but a red tick is a sense of error and needs attention.
Keyword Research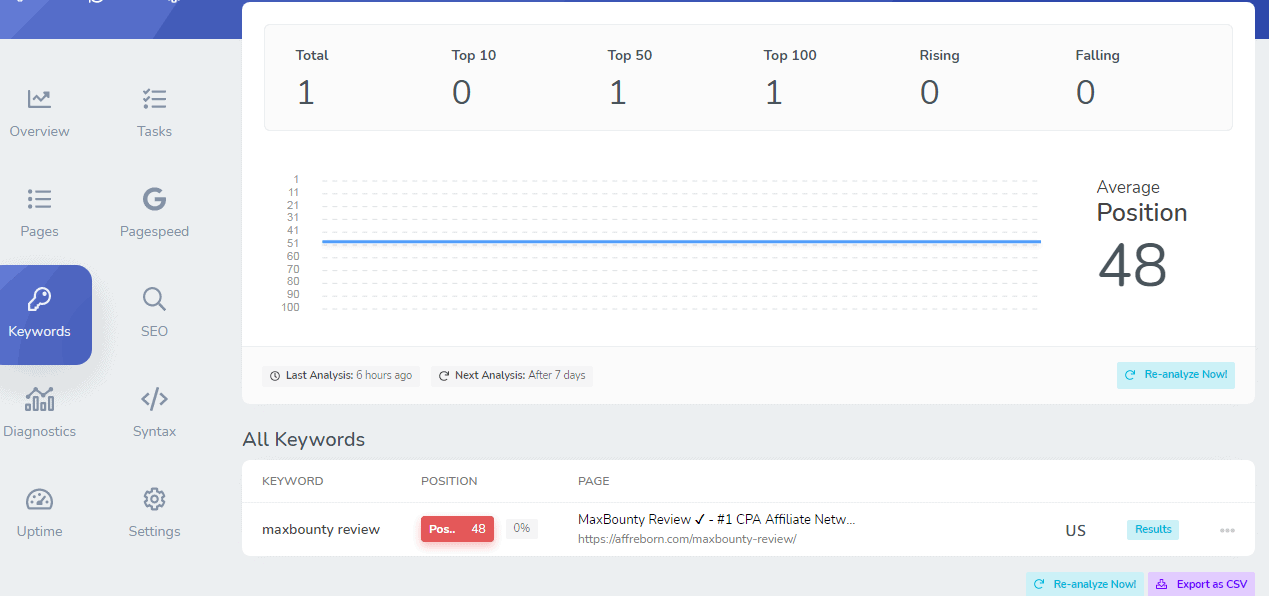 Keyword research at Screpy is super easy with detailed information on each keyword you enter. You can test how the keywords perform in a particular region, its position and how the position varies.
Get historical data for 12 months that shows the keyword popularity in any country or region. It displays the current position of the keyword and the best position for a specific region. This way you can test the keyword for any country or region.
Screpy keyword research tool also populates related keywords with high search volume for each keyword you have added. It helps you build keyword strategies and choose the right keywords that would perform excellent for a specific region.
Screpy Plans and Pricing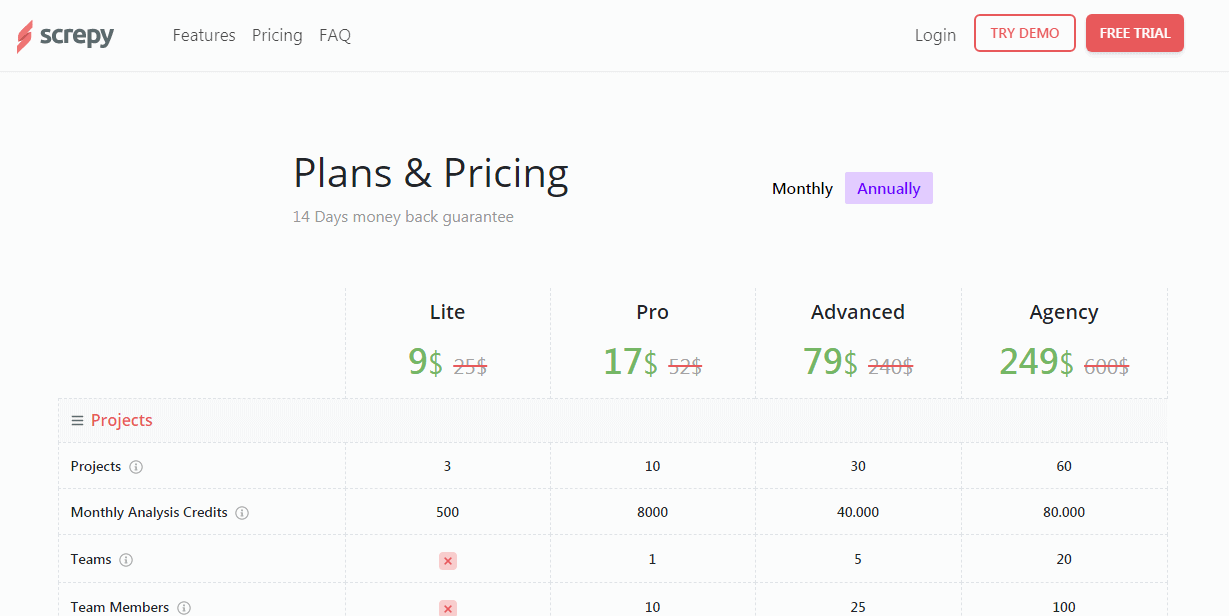 Screpy offers a 14-day money-back guarantee on each plan, so if you aren't satisfied with any of the tools, you can cancel the plan.
If you choose annual billing, you get two months free subscription on all the plans. If you want to test the features, you can start a 7-day free trial, and then buy any subscription plan.
Every plan has to be chosen based on the number of websites you have. If you have up to 3 websites, you can choose the Lite plan. The Pro plan can be chosen for websites up to 10, and for more than 10 websites, you can choose the Advanced or Agency plan.
You can pay via any major credit cards like Visa, MasterCard, Discover, American Express, and Union Pay. All payments are accepted in US dollars.
I think at the end of Screpy review, you must have got any idea whether you should buy this tool or not.Start Using Screpy for $9/mo
Conclusion: Screpy Review
Screpy is an all-in-one SEO tool powered by AI that offers auto-generated tasks and in-depth details to resolve issues affecting site performance.
I hope Screpy review was helpful to give you a brief idea about its features and plans.